For reliable Conveying of all Types of Sludge Cake
The Solids Pumps from Saxlund International have been reliably conveying all types of sludge cake for many years. Transporting sludge cake in closed systems keeps it separate from its surroundings and the environment. Unpleasant odours are now a thing of the past. Even problem sludge cakes can be pumped without risk. Our many years of experience are your guarantee of maximum reliability, even when pumping over long distances or 24h a day.
Cost-effective modular system
Vertical or horizontal versions as required
Hydraulic seals means lower wear
Optional pump arrangements give compact design
Wear indicator
Easily extended by adding extra pump units in parallel
Valves easily exchanged due to top-entry design
Upstream twin-shaft screw for optimum filling ratio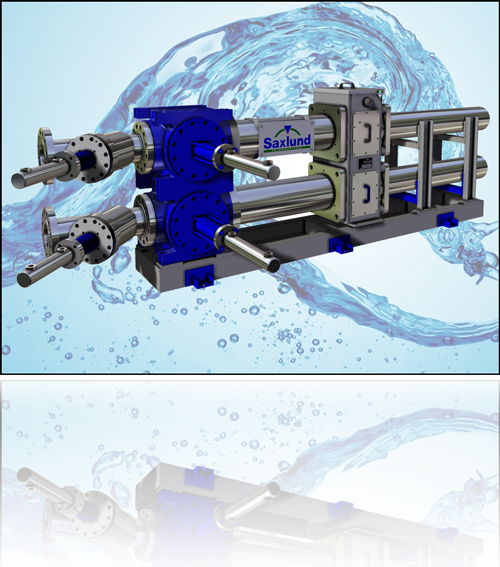 From wastewater to centrifuge sludge, Saxlund solids pumps pump almost all sludges from municipal or industrial wastewater.
Advantages of the SAXLUND pumps:
No pulsation damper required
The pump In operating without Jerk and silent. The pipeline is shock free.
There is no backflow loss as with a valveless pump, i.e. energy consumption is lower.
The dosing accuracy of the pump is optimal as no backflow lack is arising.
Low wear as the valve sealing surfaces do not slide under pressure on each other.
No central grease lubrication required.
The modular design makes emergency operation possible by changing from two to one-cylinder drive mode.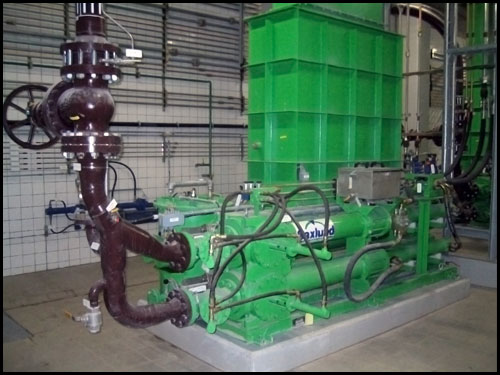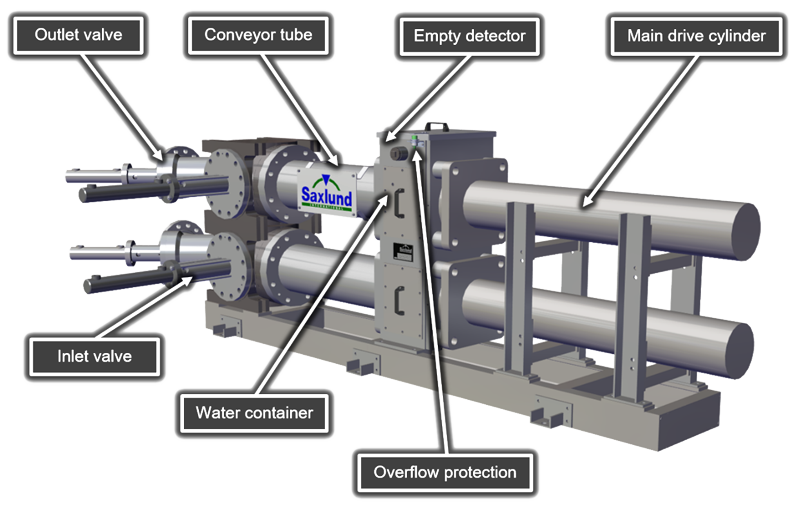 Technical specification:
Pressure range: 40…100 bar
Flow rate: 1…50 m³/h
Piston diameter: 180/250/300 mm
Stroke: 500…2000 mm
We know our limits:
Foreign parts up to 200 mm
DS-Content up to 45 % (depends on the flow behaviour of the material to be pumped). If your products exceed these limits we'll find a solution!
Product feed:
Saxlund has two different sewage sludge conveying systems available, which in conjunction with our numerous types of pumps, serve all arrangements and scenarios. Depending on the requirement in the case of sewage sludges with low dry solids contents, the product can be fed via an agitating hopper, otherwise by a pre-press screw. The pre-compression unit basically consists of two worm screws rotating in opposite directions. These compress the material to be conveyed before it reaches the pump and so ensure an optimum filling ratio. Furthermore, the dual screws are arranged such that a self-cleaning effect is achieved.
Maintenance:
The maintenance effort is kept as low as possible:
No disassembly of suction and discharge lines necessary.
Replacement of wearing parts is possible without much effort and without specialist personnel.
Optional demountable delivery pistons with easily replaceable standard seals or one-piece pistons with integrated seal.
After-Sales-Service:
We don't leave you high and dry after you have bought one of our products. Our Customer Service personnel are always ready to help you anytime.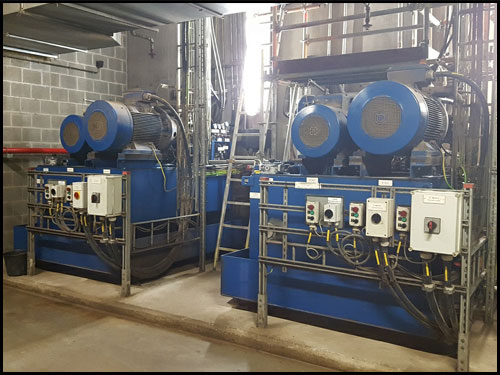 Drives:
All Saxlund International Solids Pumps are driven hydraulically. This enables the hydraulic power pack to be conveniently located away from the pump, if required. To guarantee economic operation, Saxlund can offer you a large choice of hydraulic units. Whether you are driving just one Pump or wish to provide drive power for a complete system, Saxlund International can supply the right drive to meet your needs exactly.
Controls:
We employ PLC (stored program control) for controlling our Solids Pumps. Contactless sensors inside the pump transmit electrical signals to the PLC. Operation is carried out via a central control panel. Saxlund International Solids Pumps can also be integrated into existing process control systems.
Interception of oversized material:
The inclusion of an oversized material strainer is recommended in order to protect downstream apparatus from oversized solid matter. The cleaning intervals are indicated by measuring the differential pressure between the inlet and outlet ports. And cleaning is no problem either, owing to the simple construction of the strainer.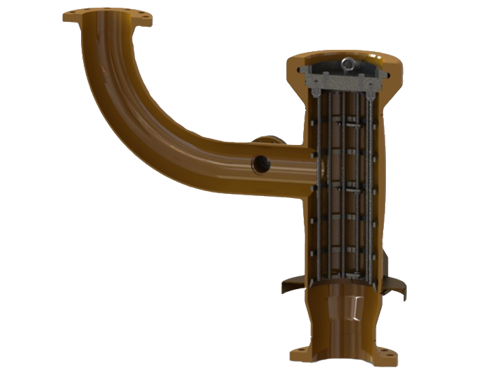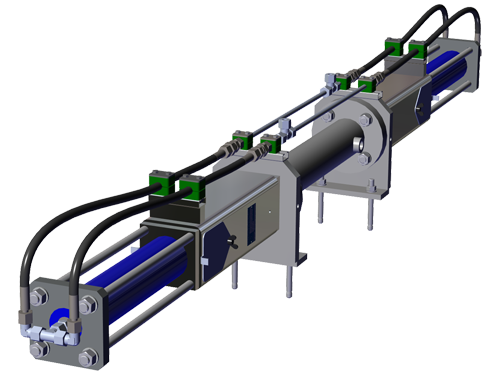 Metering of slip additive:
To reduce the friction losses when pumping
particularly cohesive or highly viscous products, the Saxlund range includes a slop additive metering station. The injection of polymers with high molecular weight creates an artificial lubricating film between the inside wall of the pipe and the material being pumped. Therefore, for the same Pumping distance, a pump with more favourable energy requirements can be used.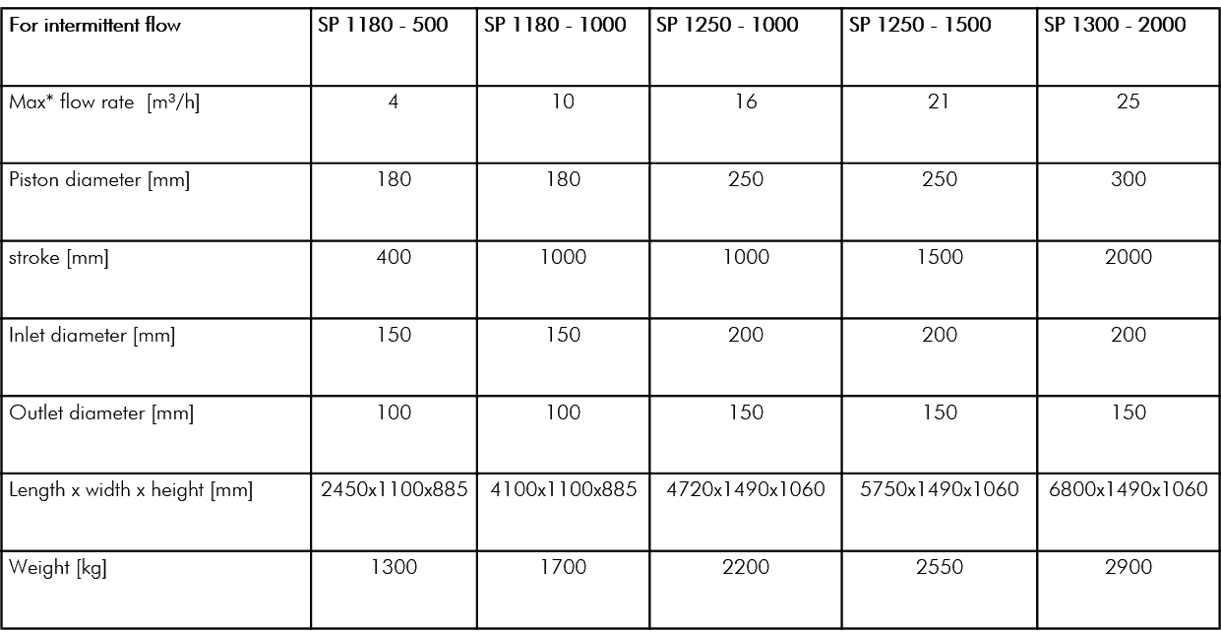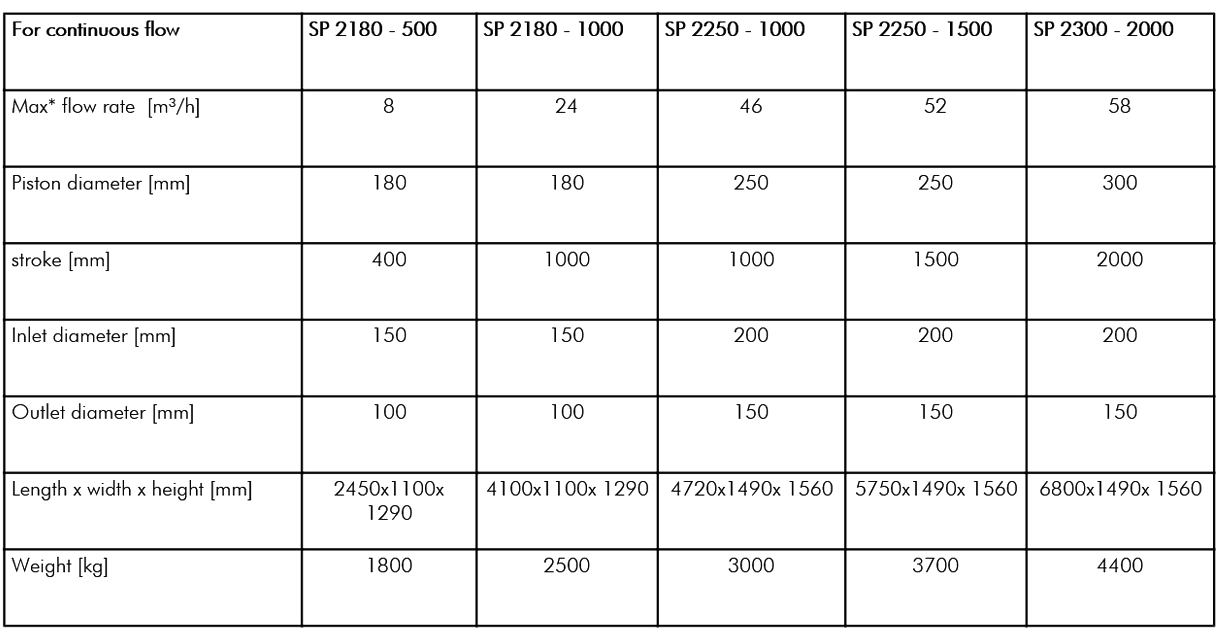 * At 100% filling, depending on TS content
The Saxlund "Duplex" Pumps have been developed for the ultimate demands in sewage sludge reception and high conveying capacities. The 250 mm diameter gate valves have been specially designed to facilitate free-flow from the inlet via the conveying cylinder to the outlet.
The design achieves a smooth, easy flow of the material as wail as prevents foreign matter entering the system. The pump has been specially developed to encompass all the advantages of other pumps on the market.
Quick action couplings on both the suction and pressure sides facilitate a speedy supply to the inlet and outlet sections. The generous dimensions reduce stroke and cycle times. Through this, the operational reliability for long-term, continual use can be guaranteed and is also cost-effective.
Connection to other feeding equipment is such that the overall height is very low. This in turn means that the silo at the sewage sludge reception station can be designed with a minimum height construction, which can reduce building costs quite considerably.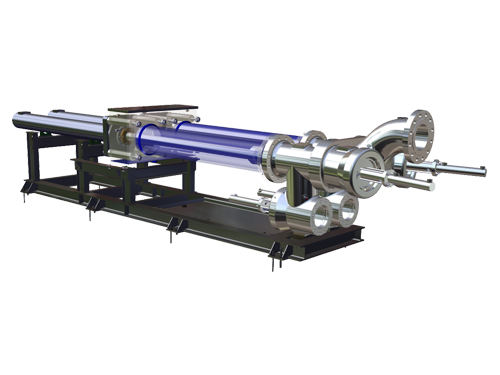 Distribution-patented:
Saxlund International can provide a distributor station for directing the cake to where it is required. The apparatus, fitted with hydraulically actuated valves, enables automatic distribution of the sludge cake mass flow. More detailed Information is available on request.
It is ground-breaking for the Saxlund products developed for bulk materials technology, which are indispensable today in the realm of storage and conveying.
Discharge devices for heavy flowing bulk materials, whether rotor, sliding frame, push floor, or TubeFeeder, were developed by Saxlund and are patent pending. Today, other manufacturers are trying to copy these technologies. Worldwide, the sliding frame developed by Saxlund has become a fixed concept.